*******CONFIRMED ERASMUS+ KA1 COURSES******
Start your new KA1 Erasmus+ season 2021-2022 with the courses provided by iTEACH ITL-INSTITUTE. Join our confirmed Erasmus+ KA1 Courses. Last available places
Prevention of Peer Violence – Stop the Silent Epidemic – 07 March 2022, Barcelona
Classroom As a Stage: Using Drama in Education Process – 07 March 2022, Paris
Education Equity Inclusive Education – 14 March 2022, Madrid
Project Based Learning with Technology – 28 March 2022, Prague
New Technologies and Future Classrooms: Educational Apps, Blended Learning and Flipped Learning – 28 March 2022, Prague
Preventing Early School Dropout – A Challenge for Every Teacher – 04 April 2022, Prague
Education Equity Inclusive Education – 08 April 2022, Prague
Prevention of Peer Violence – Stop the Silent Epidemic – 11 April 2022, Prague
Classroom As a Stage: Using Drama in Education Process – 11 April 2022, Prague
STEM: A Step For the 21st Century Education – 11 April 2022, Helsinki
My Eco-School and Sustainable Development – 25 April 2022, Prague
New Technologies and Future Classrooms: Educational Apps, Blended Learning and Flipped Learning – 02 May 2022, Istanbul
Building the Bridge: Refugees and Schools – 09 May 2022, Paris
Building the Bridge: Refugees and Schools – 09 May 2022, Rome
Learning-Based on Inquiry - A Modern Challenge for Teachers - 09 May 2022, Rome
The Importance of Coaching For 21st Century Teachers – 08 August 2022, Prague
New Technologies and Future Classrooms: Educational Apps, Blended Learning and Flipped Learning – 22 August 2022, Istanbul
Effective Classroom Management Strategies And Ideas For Teachers - 26 September 2022, Rome
Welbeing and Motivation through Art, Music, Drama - 24 October 2022, Istanbul

**The course costs 80 Euros per day per person. (Only for the course which includes conference hall rental, course materials, course documents - certificates and Europass documents, coffee/tea breaks, cultural activities. It does not include meals or accomodation


***All our training can be funded by Key Action 1 of Erasmus+***
WHY ITL INSTITUTE?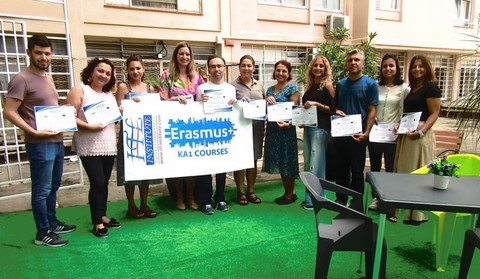 Our institution has strong experience with Erasmus+ courses
Becoming a great teacher demands life-long learning. Every teacher needs to educate himself or herself as long as it is possible, in order to become a better educator, trainer, and teacher. It is not a matter of gaining knowledge, but it is the matter of having the right attitude.
However, formal education is only one type of learning. There are many other opportunities to further your knowledge as an educator and develop skills you need throughout life. Learning is unavoidable and happens all the time.

Highly qualified trainers with international experience

Project-based learning (PBL), eLearning, Assessment methods, ICT in the classroom... are only some of the topics that we offer to the teacher who applies to our institution. We offer various practical approaches in the classroom to improve your teaching. iTEACH ITL INSTITUTE offers a great experience for teachers to learn from our trainers as well as from other participants from the courses. You will get the chance to see and visit international schools. You will never stop learning, but learning can be interesting, funny and engaging, for both students and teachers. Lifelong learning can enhance our understanding of the world around us, make us better persons and improve our quality of life. Join us and don't miss a chance to become even better teachers. Every teacher can be part of this great educational network. Our courses enable every teacher to improve their qualifications.
At iTEACH ITL INSTITUTE, our priority has always been high-quality education and 100% satisfaction for our participants. So far, our participants gave us very good feedback about the courses they attended. Our trainers have provided guidance and support services not only during the course but also after the course, enabling participants to complete their mobility experiences in a smooth way
Why teachers choose ITL Institute as their course provider?
We have strong experience with KA1 courses and the Erasmus+ programme. We have successfully taught around 100 courses so far

We have around 30 different courses in our portfolio

and we can tailor a new course according to your institutional needs.

We are able to organize courses in any location in Europe. So far, our most requested destinations have been: Prague, Madrid, Barcelona, Rome, Paris, Amsterdam, Split, Helsinki, Bucharest and Thessaloniki.

Free continuous support for the schools we work with, from the first stages of writing their project to the final report, at the end of their approved project.

Free organizational support for your mobilities: advice on accommodation, meals, flight tickets, local customs and visiting alternatives.

No hidden fees! All our support is free of charge and is included in the course fee.

Possible discounts for large groups

We are 100% focused on customer satisfaction. You can see the list of schools which chose our courses on our reference section

here

We work with a team of international highly qualified trainers. You can check their bios

here
Upcoming Events
Flipped Classroom - Flip the Class Through ICT
Academic Success through Classroom Management
STEM: A Step For the 21th Century Education
You can also
CLICK
to reach our page at school educationgateway
"The Future Of The World Is In My Classroom Today"
Organisation ID : E10005521
---
WE HAVE OPENED OUR BARCELONA OFFICE
CARRER DE PARIS 45, MEZZANINE 3ª BARCELONA SPAIN
Phone : +34 933 556 207
PIF : E10245179